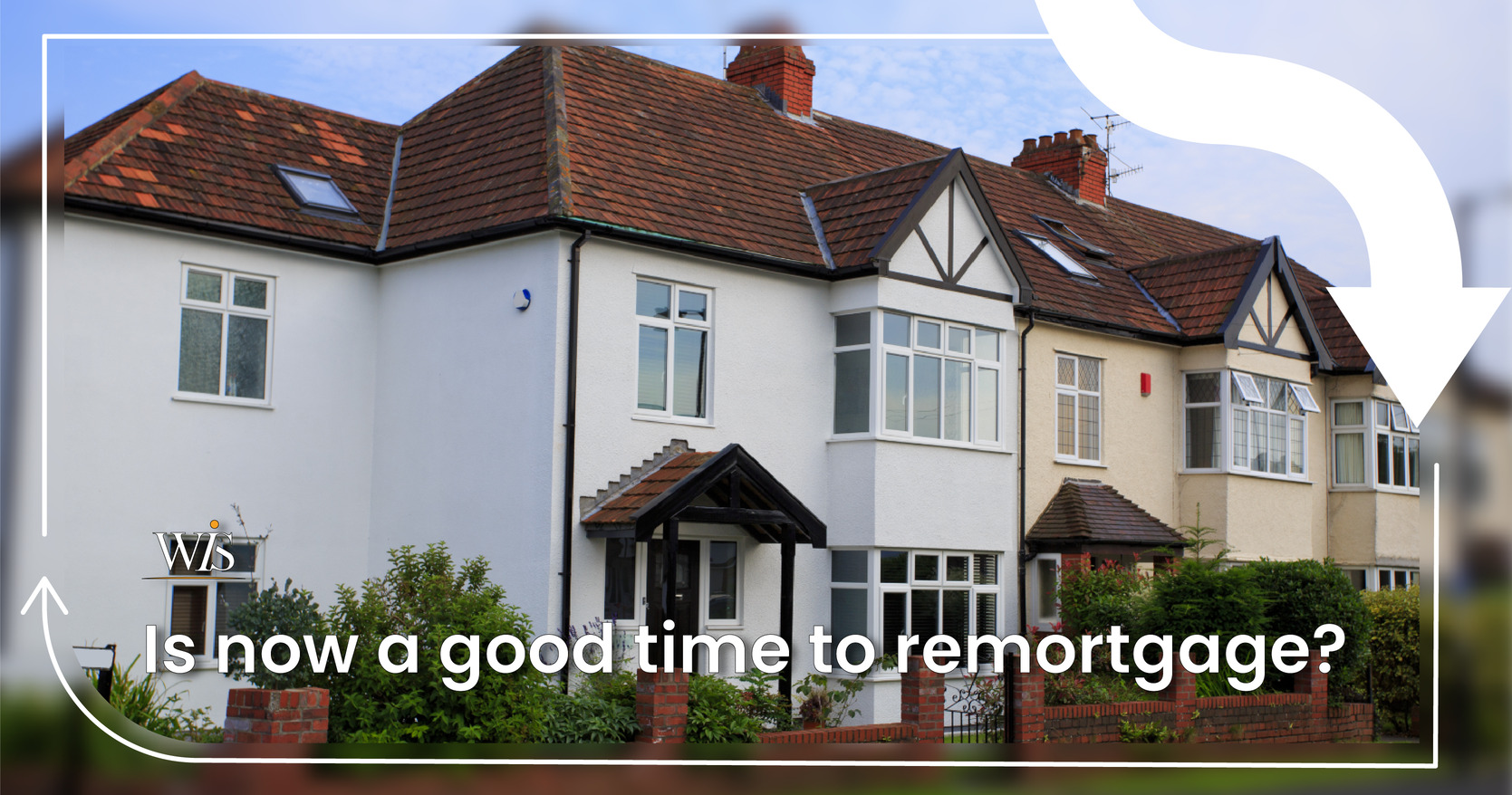 16th June 2023
Is now a good time to remortgage?
Interest rates have been in turmoil over the past few months due to the continued uncertainty surrounding the economic climate. The Bank of England raised interest rates for the 11th time in a row in March, resulting in borrowing being even more expensive.
Despite all of this, mortgage rates have been decreasing. So, is now a good time to remortgage? In this guide, we take a look at everything to do with remortgaging, including what it involves, reasons to remortgage and the potential advantages of remortgaging now.
What does remortgaging involve?
Remortgaging is essentially the process of moving your existing mortgage from one lender to another to get a better deal. When you are considering remortgaging, it's important to shop around and see what rates different lenders might be able to offer you.
You'll also want to consider remortgaging costs such as completion fees, property valuation costs and exit fees with your current lender. Getting a decision in principle or an agreement in principle can also help to see how much you could borrow.
find me a mortgage
Reasons to remortgage
There are many reasons why you might consider remortgaging your property. Some of which include:
If your current deal is ending
Most mortgage deals only last 2-5 years, including fixed-rate, tracker and discount mortgages. When your current mortgage ends, you will most likely be automatically put on a variable rate by your current lender, which may have higher interest rates that what you're currently paying. Remortgaging before your current deal runs out can help you to avoid higher rates and get the most out of your mortgage.
If your home's value increased
If your property's value has increased since you first took out your current mortgage, you may want to consider remortgaging. A value increase can also potentially make you eligible for lower interest rates, which is a bonus if interest rates continue to be unstable. You may need to shop around to look at the types of deals available.
If interest rates are on the up
Due to the current economic climate, interest rates are a lot less stable at this moment in time. If the Bank of England changes its base rate, this can directly affect mortgage payments, especially for those on tracker or variable rate deals. Remortgaging to a fixed mortgage can provide an element of certainty and help you get the most suitable deal for your circumstances.
What's happening to mortgage rates now?
Mortgage rates initially began rising back in December 2021, when the Bank of England increased base interest rates. However, mortgage rates have now started to fall after peaking in October last year.
From May 2023, the average 2-year fixed mortgage rate now stands at 5.26%, a drop from 5.43% in October. The average 5-year fixed mortgage has fallen to 4.97%, from an average rate of 5.23%. (These are average figures based on all LTVs. These rates are not representative and any rate available to you would be based on your status.)
Is now a good time to remortgage?
It all depends on your preference when it comes to variable or fixed-rate mortgages. If the Bank of England increases its base rate of interest, your variable mortgage rate will also increase. However, if it decreases it, then your rate will drop instead.
Due to so much uncertainty, mortgage advisors may not be able to give you a definite answer on whether a fixed or variable rate is most suitable for you. However, it's worth bearing in mind that mortgage rates are expected to increase again later on in the year, so fixing now could be a wise move.
On the other hand, while rates are falling, the cost of borrowing could increase depending on the rate of inflation. Ultimately, you need to work out the potential costs and savings associated with remortgaging depending on your specific circumstances.
Should I wait to remortgage?
You should consider remortgaging when you know for certain that you will be in a better position financially afterwards. Due to the uncertain economic climate, you shouldn't just remortgage for the sake of remortgaging.
Can remortgaging save me some money?
Essentially, if you're in the last 6 months of your current mortgage then it might be worthwhile to look for a new deal now. By choosing a mortgage deal before your current one runs out, you avoid going onto your lender's default rate, which will be heavily influenced by base interest rates.
A product transfer with your current lender - which just means getting a new mortgage with your current lender - may also save you some money and can be easier than switching to a brand-new provider. Leaving a mortgage early will result in exit fees, however, you may have the potential to save hundreds of pounds per month, so it's best to do the maths to see how much you could save by switching.
What to do before remortaging
Start planning at least 3-6 months before your current mortgage deal expires. Also, find out how much you could potentially borrow depending on your earnings and the interest rate predictions. Speaking to a mortgage broker can help you with this, offering more guidance based on your specific situation, especially if you have a variable income or are self-employed.
Get in touch with us today at WIS Mortgages for free advice or if you're still wondering is now a good time to remortgage, use our mortgage calculators to get the most suitable deal for you.
As a mortgage is secured against your home/property it may be repossessed if you do not keep up with the mortgage repayments.
Contact Us
SHARE WEBPAGE