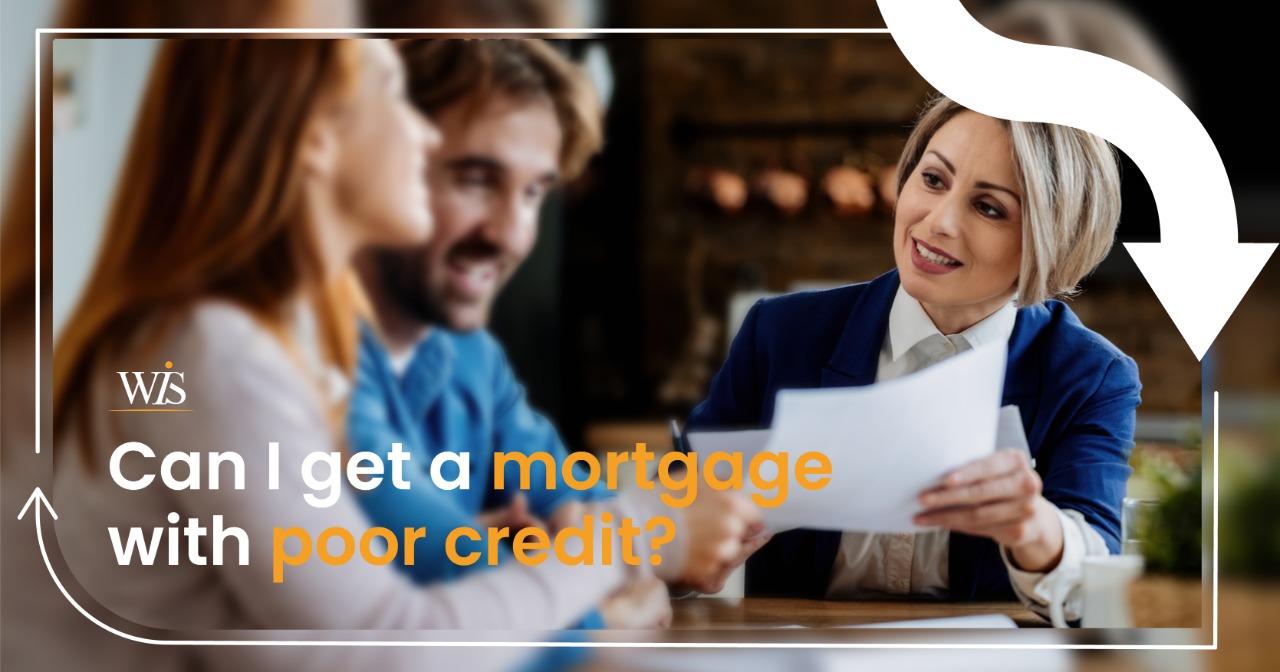 Can I get a mortgage with poor credit?
When it comes to our finances, most of us have had at least one blip or other in our history. Whether you've had CCJs in the past or you've struggled to keep up with credit card repayments, it's easy for your credit score to be damaged or take a dip now and then. But when it comes to taking the next step and buying a home, you may be wondering: can I get a mortgage with poor credit?
We've covered all you need to know about getting a mortgage with bad credit, whether you're a first-time buyer or looking to move home shortly. Read on to find out whether looking for a bad credit mortgage is the best fit for you:
What does bad credit mean?
First and foremost, it's essential to know what 'bad credit' actually means when it comes to your finances. The average mortgage lender will perform a thorough credit check against you when you apply for a mortgage in the UK. This credit check has information about your debts, missed payments, defaults, and any other aspect of your credit history. When you have bad credit, this indicates you have a lower credit score due to any issue on your credit file, whether it was down to a few missed payments or a bankruptcy several years ago.
Can I get a mortgage with poor credit?
The question you want the answer to: can I get a mortgage with poor credit? While there's no such thing as a clear-cut answer to this question for everyone, there are lenders out there that will offer a mortgage to individuals or couples with a bad credit rating. However, there may be specific stipulations related to poor credit mortgages. You are also more likely to have higher interest rates if accepted for a mortgage, leading to higher payments.
find me a mortgage
What should I do to get a mortgage with bad credit?
You now know that it may be possible to get a mortgage with poor credit – so what do you need to do next? Before you begin applying for a mortgage, it's best to prepare your finances and do your research to ensure you find the most suitable mortgage deal for your needs. Here's what you should do to get a mortgage with bad credit:
Check your credit score to know where you stand
If you're in the dark about your exact credit score, you don't have all the information available to you to decide which mortgage to apply for. Start by getting a good look at your credit score through one of the UK's regulated credit checking services. Once you have a good idea of your financial situation, you're better placed to find the right mortgage for your circumstances.
Look at your partner's finances
If you plan to apply for a joint mortgage, your partner's finances can make or break the options available to you. If you have relatively poor credit, but theirs is extremely poor, this could lead to little to no opportunities for a mortgage. On the other hand, if your credit is on the low side, but theirs is pristine, more options may be available to you jointly.
Save a bigger deposit to reduce your risk
Mortgage lenders are primarily concerned about risk regarding the finance they offer – the lower your credit score, the bigger the financial risk you are in their eyes. You can help to offset this red flag by providing a larger deposit. If you're able to save up to 25% of the value of the property you'd like to buy, you'll be in a far better position to find a suitable mortgage lender.
Ask for support from loved ones or family
Your family and loved ones can be invaluable in helping you secure a suitable mortgage. The ways they can do this are twofold. Firstly, they may be able to gift you a larger deposit, which can be used to apply for suitable mortgages. Secondly, a family member or partner with an excellent credit rating could act as a guarantor for your mortgage, increasing your chances of success. While your credit rating will still be carefully checked, this can help improve the chances of you getting accepted for a mortgage in the first place.
Use an experienced mortgage broker
Working with the experts is always a good idea – particularly when it comes to bad credit mortgages. A qualified mortgage broker like WIS can help find suitable mortgage deals for your circumstances. Our handy online calculators can also give you insight into what's available for you and the kinds of options you may have.
Should I buy a house with bad credit?
Is it worth buying a house with bad credit? That all depends on precisely what your plans are. If you're planning to buy a home in the future to get on the property ladder, it may be worth waiting a few years to repair your credit. On the other hand, if you've found your dream home or you have a time limit for buying a property, getting a bad credit mortgage may be the preferable option.
The advantage of applying for a bad credit mortgage today is that you may be able to purchase a house immediately – which is particularly valuable if you want to buy before there are any potential increases in house prices in your area. On the other hand, you'll need to pay higher interest rates and possibly also save a larger deposit from being considered depending on your credit rating.
Can I remortgage if I have bad credit?
If you want to remortgage to another lender to get a better deal on your mortgage, a poor credit score may have an impact on the offers available to you. However, this doesn't mean this option isn't available to you, and you may find that some lenders offer potential fixed-rate remortgage options for poor credit that are suited to your needs.
Find mortgage for poor credit with WIS Mortgages
Working with a trained and specialised mortgage broker is your ideal option if you want to improve your chances of getting a bad credit mortgage. Get in touch with our friendly team today to discuss how we can support you in finding a suitable mortgage with poor credit. We make mortgages simple.
Contact Us
As a mortgage is secured against your home/property, it may be repossessed if you do not keep up with the mortgage repayments.
SHARE WEBPAGE