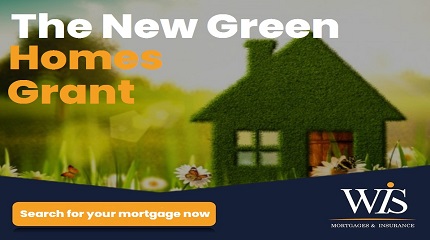 Green Grant Homes
This scheme is announced by the chancellor Rishi Sunak in July. It is estimated to provide a £2 billion worth grant for homeowners who take measures to make their homes more energy-efficient.
These vouchers are expected to cover two-thirds of the cost of eligible improvements up to a maximum government contribution of £5000. For example, if one is to have a double-glazed window installed, which costs £3000, then the government would contribute £2000, and the homeowner is expected to bear the remaining £1000. Further, if a household is currently on low-income support, they will be eligible for a maximum voucher of £10,000.
Who are Eligible to Apply?
All residential Homeowners are eligible to apply for this incentive regardless of whether you own a freehold or a leasehold property. However, leaseholders with a share of freehold will require to get permission from other freeholders making changes that will affect the building's structure.
Further, this scheme is extended to property owners under shared ownership as well.
Purpose of the Voucher
The energy-efficient improvements have been split into two categories, namely, primary and secondary, under the scheme. Homeowners must ensure at least one primary measure is installed from the primary category to qualify for the vouchers. Given one has applied at least one step from the primary category, they will be able to claim the grant for the secondary action. The following are these categories:
Primary measures
Insulation
solid wall insulation (internal or external)
cavity wall insulation
under-floor insulation (solid floor, suspended floor)
loft insulation
flat roof insulation
pitched roof insulation
room in roof insulation
insulating a park home
Low Carbon heat
air source heat pump
ground source heat pump
solar thermal (liquid-filled flat plate or evacuated tube collector)
biomass boiler
hybrid heat pump
Secondary measures
Windows and doors
draught-proofing
double or triple glazing (where replacing single glazing)
secondary glazing (in addition to single glazing)
Heating controls and insulation
hot water tank thermostat
hot water tank insulation
heating controls
Points to note
This scheme is only available for home in only England. However, if one is on rent, they cannot utilize the scheme and could only do so via the landlord. Further non-domestic properties such as commercial properties are not eligible for this scheme. Another restriction of the scheme extends to purchases of newly built properties as the property has to be occupied before applying for the property. Hence new-built purchasers can apply for the project after moving into the property.
The government further instructs to find locally approved tradespeople and to obtain at least three quotes for each piece of work, although only one is required at the time of application. Further work can only be carried out, but tradespeople registered at TrustMark and Microgeneration Certification Scheme.
The process to redeem the voucher.
To redeem the voucher, the following should be satisfied
Necessary documentation received from installer
Eligibility criteria are met
The cost of client share is paid to the installer
Installation was completed prior to the voucher expiry.
WIS specialises in mortgages for both self-employed and employed applicants. Call us on +44203 0111986 or chat to us on live chat. We are happy to arrange a call at a time that suits you.
'As a mortgage is secured against your home or property, it could be repossessed if you do not keep up the mortgage repayments
Contact Us
Mortgage Calculator
SHARE WEBPAGE