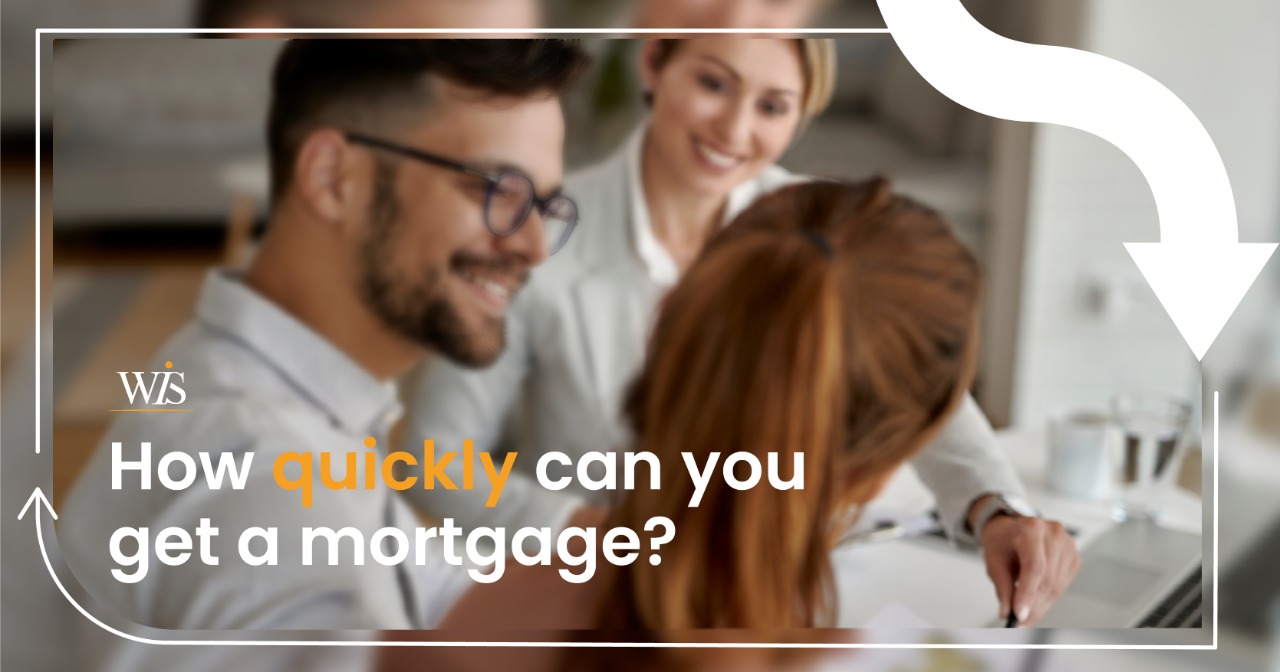 How quickly can you get a mortgage in 2022?
There is much to consider when buying a home. If you are asking 'How quickly can you get a mortgage in 2022?', then it's likely speed is important to you. To act quickly, you'll want to get onto finding quality advice, a good deal and the most suitable lender swiftly so that you can make an offer.
In this article, we'll look at how long it usually takes to get a mortgage, how long the mortgage offer lasts, and what you can do to speed things up.
How quickly can you get a mortgage decision in principle?
This is the first step to getting a mortgage. The Decision In Principle (DIP) is a basic statement of how much a lender is likely to offer based on the information you provide. This can be done online or over the phone, as well as in person, and requires you to divulge things like your income and undergo a soft credit check. The DIP can usually be obtained in a matter of minutes.
A DIP is not a guarantee of a mortgage, but it is a useful guide that can be shared with estate agents to show you are a serious buyer. You will know if your mortgage is approved, and how much you could actually borrow, once all the necessary checks and underwriting is done in the application stage.
find me a mortgage
So how long is the application process?
There is no definitive rule for how long it takes to go through the application process and get a mortgage offer. In normal circumstances, the waiting time is usually 2-4 weeks from applying to receiving a mortgage offer. This is provided that your application is quite straightforward and there are no obstacles during the underwriting process.
The reason it takes this long is because there is a great deal of processing and checking of information involved. Lenders will need to see:
3 months of payslips, your latest P60/self-assessment tax returns, bank statements, etc. to verify your income
Information about regular outgoings like childcare costs to examine your financial commitments
Evidence of identification and current/past addresses
Proof of your deposit, including confirmation of legitimate source
Details of the solicitor you are using
Details of the estate agent involved in the purchase
Your lender will also need to carry out a mortgage valuation survey to verify the true value of the property you plan to buy.
How long after the valuation will I get a mortgage offer?
The lender usually works with a surveyor they trust, and these surveyors will inevitably have periods where they are quite busy. For this reason, your mortgage offer could come a few days or more than a week after the valuation is done.
If the outcome of the valuation survey is acceptable, and the lender is satisfied with your financial situation, this could be the point where they make a formal mortgage offer to you.
What can I do to speed things up?
When considering how quickly can you get a mortgage, you might be glad to know there are certain things you can do to help things move along smoothly. First of all, a mortgage broker can be very helpful in speeding things up, because they are very familiar with the lenders and mortgage products involved. This understanding can help cut out the time you would spend doing your own research and making appointments with lenders.
Aside from bringing in a mortgage broker to help, the most effective thing you can do to speed things up is be prepared. There are various documents you will be required to send to the lender for them to carry out their checks and assessments. If you gather all those documents before applying, you will be able to send them in as quickly as possible and avoid any delays relating to finding the right documents.
It can also be a good idea to make a list of your regular financial outgoings. Both your lender and a broker (if you work with one) will need to know this information to help them calculate your affordability, so it can be helpful to give yourself a headstart on this front.
Once I get a mortgage offer, how long does it last?
In most cases, a standard mortgage offer is valid for up to six months. If you are remortgaging, the offer you receive is usually valid for three months, though it can be up to six months as well. You should be informed as to how long an offer remains valid. The reason an offer has an expiration date is that the market value of a house can change.
Some lenders propose a completion deadline rather than imposing a time limit. If you miss that deadline, you may still be able to use the same lender but the mortgage will have to be reassessed and you will essentially be starting from the beginning again. If there has been a change in your circumstances, you may be offered a different deal.
Final thoughts
So just how quickly can you get a mortgage? The answer is that it depends on how long it takes for the lender to carry out the checks. It may be possible to get a mortgage offer in as little as two weeks from applying, but this will depend on:
The complexity of your circumstances
How well you prepare before applying
The accuracy of the information you supply
The schedule of the mortgage lender's surveyor
We have gone over what you can do to try and speed up the process. Nothing is more effective for this than having a good broker in your corner. They can find the most suitable deal and work with you to prepare your application for a smooth journey through checks and underwriting.
You will also find a wealth of advice on the Mortgage Mentor app to help you prepare. Why not check out our mortgage affordability calculator to get an idea of where to start looking? Please remember that, as a mortgage is secured against your home/property, it may be repossessed if you do not keep up with the mortgage repayments.
Contact Us
SHARE WEBPAGE