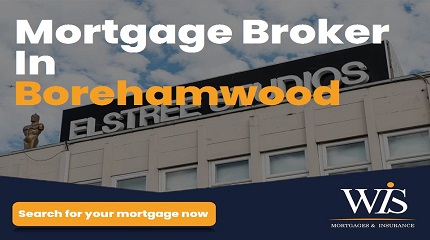 Mortgage Broker Borehamwood
If you're looking for a mortgage broker in Borehamwood, then you've come to the right place. WIS Mortgages is an experienced brokerage offering you guidance and expertise as you embark on your mortgage journey; whether you're a first time buyer or experienced property investor.
What is a mortgage broker?
To put it simply, a mortgage broker is there to find you the right mortgage deal.
The service we offer is tailored to you and your circumstances as there's no one size fits all mortgage or approach to getting a mortgage. There are so many factors that can influence a mortgage brokers role, from the type of mortgage you want to buy to your employment status. For example, if you are a contractor looking to secure a mortgage, you may be struggling doing so through traditional means at a high street bank. With access to numerous specialist lenders, a broker is able to find you the right mortgage deal to suit your personal needs.
The role of a mortgage broker has changed a lot throughout the years and they now add more value than just mortgage brokering. They can help guide you through the entire house buying process, from engaging with solicitors to helping you secure the right level of protection for your mortgage.
Mortgage broker vs bank
When it comes to buying a house and securing a mortgage, it can often be a confusing decision on where to turn to first; a mortgage broker or your bank.
Going to a bank can often be quite restrictive, particularly if you have adverse circumstances such as bad credit or if you are self employed. This is because they will only be able to offer you the products they can provide and if you don't fit into their ideal lending criteria, then it's unlikely you are going to see much success.
Going through a broker means you can open yourself up to more options, due to the number of different lenders (and therefore different mortgage products) they have access to. There's no tick box approach with a broker and no 'ideal borrower', so every case is dealt with individually to ensure you have the best chance of securing a mortgage.
You can also use an aggregator to inform your mortgage decision. These are generally the likes of price comparison websites. The issue here is that they are likely to find you the cheapest price without considering your level of suitability for that lender and your circumstances, such as your affordability, may not suit the mortgage deal the site is proposing.
Why us?
Deciding whether a mortgage broker is right for you in the first place is important and this will depend on the level of service you would need. Mortgage brokers offer a lot of support and are there to 'hold your hand' through the process, so if you're struggling to know where to start or you have unique circumstances; such as bad credit or you're self employed, then a mortgage broker would be a great option.
We also believe it's important you should have access to your broker when you need them, which is why we operate from 9am to 6:30pm – so your mortgage conversations don't have to interfere with your day to day and you have flexibility where you need it.
We call ourselves a digital broker as we use things like Open Bank, where we can download your statements online as a proof of your affordability, instead of you having to go away, find them and bring them back to us. Using Open Bank also means we can reduce the amount of paperwork involved in your mortgage application, which inevitably makes the process a lot quicker.
Our service also means you can come and meet with us face to face – a popular option for those who live in Borehamwood, as well as Barnet and Watford. Alternatively, we can also use digital platforms to converse with you if you live further afield or if you're too busy to come into the office.
When's the right time to see a mortgage broker?
We advise you to see a mortgage broker as soon as you possibly can, so you can decipher what you can and can't afford before you even start looking at properties.
Even if you aren't quite ready to buy your home, coming to us to prepare your credit files and assess how much deposit you will realistically be able to offer is a great way to start your mortgage journey off on the right foot. This way, once you have saved the right deposit amount, you know exactly how much you are able to borrow and can then look for houses comfortably knowing they're in your budget.
What other services do we offer?
At WIS, we are more than just a mortgage broker as we believe offering a holistic service for our customers is the best option; for you and your mortgage.
When you're buying a car, you don't just buy it and drive away. You need things like car insurance and road tax to protect you and your vehicle – and the same applies to your mortgage.
It's important you have buildings and contents insurance to protect your home and your personal belongings. Additionally, having adequate life insurance is also extremely important, particularly if you are the main breadwinner in the family. If you pass away, you want to ensure your family has enough money to cover the monthly mortgage payments and having a life insurance policy can just do that.
We also advise you on products such as income protection. If for medical reasons you are unable to work and therefore aren't bringing in a regular income, your mortgage payments could be at risk. Income protection simply pays you part of your income so you are able to cover these payments and not risk any chance of your home being repossessed.
Why is Borehamwood popular?
With close access to London, Borehamwood is a popular choice amongst commuters due to its easy access to the city, making it a great place to live without having to pay London house prices. It is also a great place for families to live, with two excellent schools in the vicinity, a lot of people decide to move to the area so they can send their children to the local grammar schools.
With new developments coming up in the area and plenty of options for families, now is a great time to purchase a property in Borehamwood.
SHARE WEBPAGE