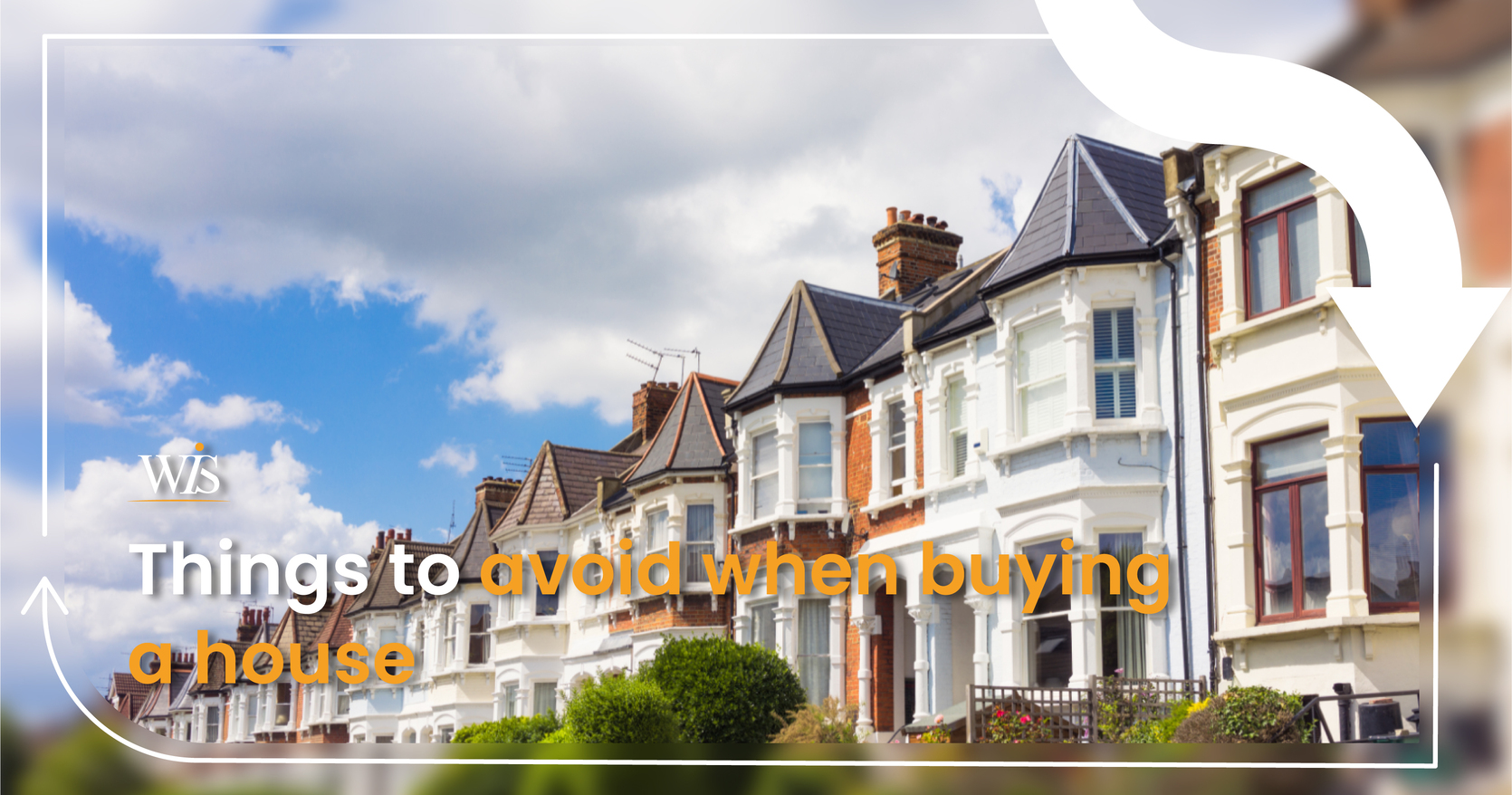 Things to avoid when buying a house
Buying a house is undoubtedly one of the biggest parts of adult life, and certainly one of the most stressful. This is especially true if you're a first-time buyer with no real idea where to start. You may be concerned about the right and wrong things to do when looking to buy your first home. In this latest blog post, we dive into all the things to avoid when buying a house, plus how WIS Mortgages is here to support you in purchasing the home of your dreams.
find me a mortgage
Things to avoid when buying a house
Looking for houses outside of your budget
The main thing you need to ascertain before even beginning the early stages of home searching is your budget. Knowing what you can afford means that you avoid the disappointment of falling in love with a property that can never really be yours. One of the quickest and easiest ways to find out how much you can borrow for a mortgage is using an online tool like the WIS Mortgage calculator. This helps to give you an instant idea of property budgets so you can get online and start searching for your dream home with a realistic budget.
Being too broad with your search
You can also encounter problems when being too broad with your property search geographically, so this is best avoided at all costs. When looking to buy a property, identify an area or location that you would ideally like to live in, that suits all of your personal needs. Once this has been decided, you can narrow down your search, without being overwhelmed by different properties across a larger area. Consider coming up with a few backup locations that would also be suitable, just in case you struggle to find suitable houses in your chosen area.
Only using one method of search
While the internet may be a tempting tool to use when buying a house, if you negate other methods of property searching, you may just miss out on your dream house. Consider going back to old-school methods, like visiting independent estate agents in your desired area. Not only does this make the process of buying a house more streamlined when working with someone in-person, but estate agents can also be incredibly supportive throughout your purchase journey. Local estate agents are typically highly knowledgeable about their area and will be fountains of knowledge for any property questions you may have. This would be perfect for those who are first-time buyers and unsure about the property purchasing process.
Not researching an area
It's always important to research an area or location fully before committing to buying a house. One of the biggest things to avoid when buying your home is falling in love with a property while neglecting the surrounding areas. You have to consider that you are likely going to be living in this area for at least a number of years after purchasing a property, so it has to be in an area where you'll feel comfortable living. When you find your ideal property, take time to get to know the area and make sure it is a good fit for your personal needs before committing to a purchase.
Making prejudgments about a property
If you've ever heard the phrase "don't judge a book by its cover", this is never more true than when looking at properties. While a house you see might not meet all of your expectations at the outset, you should avoid quickly dismissing options. Instead, explore all options that come your way, and give every property the benefit of the doubt. A prime example of this would be a property that has been stuck on the market for a while. You may at first consider that there must be some reason why the house isn't selling and cast it aside, whereas it could just be the house hasn't found its perfect owner yet. Who knows, maybe that perfect owner is you!
Not making the most of your house viewings
While it can be easy to get swept up in the excitement of a house viewing, especially if you like what you see from the moment you step in the door, it is vital to avoid merely looking at the house from an aesthetic point of view. Always make the most of any house viewing you attend to check for problems you might come across down the road if you were to purchase it. For example, keep an eye out for areas of dampness, any issues with cracked window frames etc.
Being unrealistic with your house goals
While we all may dream of that perfect house, it's unlikely that we will ever find a house that completely ticks all of our boxes. This means we have to be realistic and be prepared to compromise. Avoid being stubborn and casting aside properties that don't meet every high standard you have. Instead, create a list of things that are non-negotiable and also aspects you would be willing to compromise on if need be.
Get things right when buying a house with the help of WIS Mortgages
WIS Mortgages is the only online mortgage broker you need when looking to purchase your perfect property. Use our wealth of online tools and support guides to start turning your homeowning dreams into a reality today. For more guidance on things to avoid when buying a house, speak to a member of our team today.
As a mortgage is secured against your home/property, it may be repossessed if you do not keep up with the mortgage repayments
Contact Us
SHARE WEBPAGE