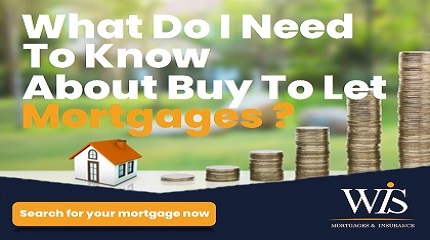 What do I need to know about Buy to Let Mortgages?
What do I need to get a BTL mortgage?
Purchasing a property in the UK as a buy to let is a substantial investment opportunity. Some people struggle to become landlords due to various reasons. However, the home buyers with the proper plan and appropriate guidance make their dream come true of becoming landlords and building a property portfolio.
Borrowers have a set of doubts when deciding to apply for a BTL mortgage. Applicants mainly need to know how someone can be eligible for a BTL mortgage. As a rule of thumb, most lenders would require the applicants' minimum income to be at least 25k. However, it depends on the lender that the borrowers plan to apply.
On top of the income, lenders would be interested in the subject BTL property's expected rent. These mortgages are considered self-funding, and the rental income should cover the mortgage payment and the balance as profit for the property owner. Banks generally stress test each property to see if its credit worthy.
Do you need your deposit before applying for a mortgage?
Several parties would be interested in proof of deposit. The mortgage lender, the intermediary, and the solicitor would want to see clear evidence for proof of deposit. Usually, the proof of deposit documents is needed at the point of submitting a full mortgage application. The deposit could be funded from personal/business savings, gifted deposit from close family members/friends.
If the applicants are planning to purchase the BTL property via a limited company, there are alternative sources of funding the deposit, such as the director's loan. Some lenders allow intercompany fund transfers where deposit funds could be transferred from the contracting company to the limited company SPV. However, the company shareholding structures need to be similar to do this transaction.
Are BTL mortgages easier to get?
There is a common misconception in the property market that BTL properties and mortgages are difficult to be arranged. The reality is, BTL mortgages are not that difficult to be organized as they are categorized as self-funding mortgages. Further, lenders specialize in the BTL industry and at times offer exclusive rates via mortgage intermediaries such as a mortgage broker.
Overall, the BTL mortgage lenders would not request a long list of documents compared to residential mortgage lenders. Both employed and self-employed applicants can apply for BTL mortgages, and the application process can be smoother and less time-consuming.
What is the lowest deposit for a mortgage?
As per the current market circumstances and conditions, lenders have cut down on the maximum loan to value brackets. The ongoing (06/10/2020) loan to value with the lowest deposit would be 75%-80% LTV with a 20%-25% deposit from the BTL property buyers.
When it comes to the limited company route for purchasing a new BTL property, the deposit required could be even higher, and significantly high product fees are applicable. Overall, you must consider both the interest cost and the product fees before selecting a mortgage deal. An experienced mortgage adviser could help you with choosing a suitable mortgage deal.
What income can be included for a mortgage?
There could be instances where rental income valuation does not add up to the required loan amount. Therefore, some lenders are flexible in considering the applicants' personal income to match the amount of loan needer's affordability. However, these lenders might charge you high-interest rates and product fees.
What is Stress Test?
Lenders run a stress test to determine the maximum affordable loan amount. It depends on the rental income valuation and other factors. Usually, the stress rate for 2 years fixed deal is higher than 5 years fixed deal. It indicates that landlords can apply for a larger loan amount with 5 years deal compared to 2 years deal.
How to decide on BTL property equity ownership structure?
This is an interesting area. BTL property buyers can plan the equity ownership structure of the property while applying for the mortgage. If one applicant is a basic rate taxpayer and the other applicant is a high taxpayer, 90%-95% of the property ownership could be transferred to the basic taxpayer. It would effectively reduce the overall tax liability on rental profits.
When husband and wife own a BTL property as 50%-50%, and planning to remortgage, they can still do the above equity transfer. Here, applicants need to be bit careful as some lenders do not allow equity transfers in the background while remortgaging. It would be best to contact an experienced mortgage adviser.
What if the rental income valuation is not adequate to raise the required loan amount?
This is where the concept of "Top slicing" comes into play. In case if the rental income valuation is not adequate to raise the required loan amount, some lenders consider applicants' personal income. It will help the applicants to increase the loan affordability. However, not all lenders consider top slicing. Specialized BTL mortgage lenders will consider top slicing.
Can I purchase a commercial BTL property?
The market for commercial BTL mortgages is pretty much restricted now due to the Coronavirus Pandemic. Specialized commercial mortgage lenders have cut down the maximum LTVs. However, there is still hope for commercial mortgages as well in the market, and the ideal solution would be to contact an experienced mortgage adviser.
We here at WIS Mortgages help home buyers with different types of mortgages, including,
Contractor Mortgages
Employed/self-employed Mortgages
Help to Buy/Shared Equity Mortgages
BTL Mortgages- personal/limited company/commercial
Mortgages for British Expats
Mortgages for Foreign Nationals
Islamic Mortgages
Please contact us on 02030111986 for more details on specialized mortgage intermediary services.
Most buy-to-let properties are not regulated by the Financial Conduct Authority (FCA).
Your home may be repossessed if you do not keep up repayments on your mortgage.
Join our mailing list to keep up to date with information about the housing market. You can unsubscribe at any time
SHARE WEBPAGE