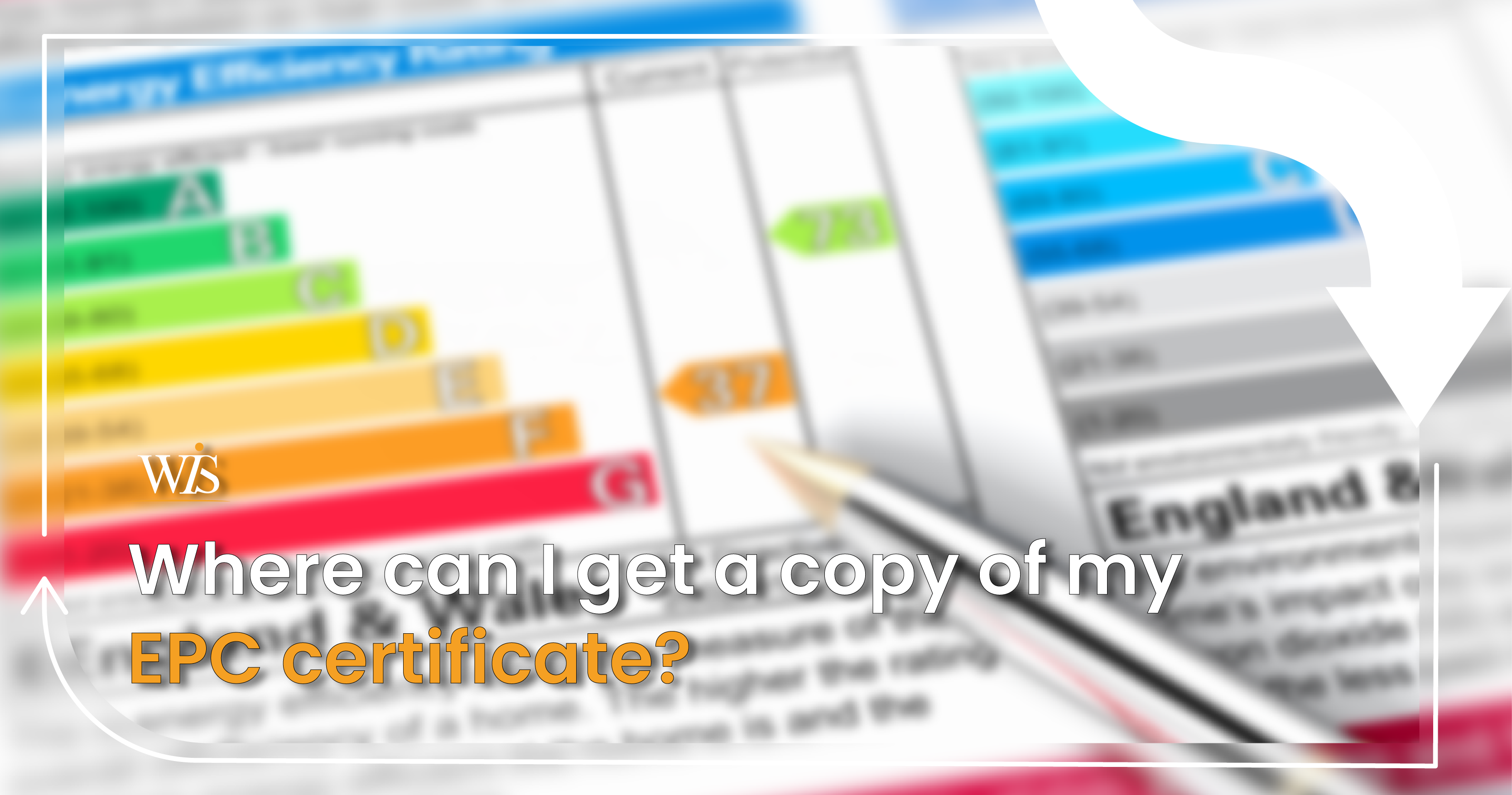 Where can I get a copy of my EPC certificate?
An EPC certificate is required by law when a property is built, sold, or rented. It gives potential buyers or tenants an indication of the property's energy efficiency. But where can I get a copy of my EPC certificate? In this article, we'll discuss where you can get a copy of your EPC certificate, what information it contains, and why it's crucial.
What is an EPC certificate?
Before we answer the question 'where can I get a copy of my EPC certificate? let's take a moment to look at what an EPC certificate is. An EPC certificate, or Energy Performance Certificate, is a document that provides ratings for the energy efficiency of the entire property and specific areas such as heating and insulation.
Ratings vary based on letter grades. The highest rating is an A, and the lowest is a G. The higher the rating, the more energy-efficient the property is. The certificate also provides recommendations on how to improve the energy efficiency of the property.
find me a mortgage
Are you legally obligated to obtain an EPC certificate?
When building a new property or trying to sell or rent one, an Energy Performance Certificate (EPC) is necessary. There are a few types of properties that don't require an EPC certificate. These include:
A temporary building with a planned operational life of fewer than 2 years
Places of worship
Listed buildings
Buildings with a total floor area of less than 50m2
Buildings that use little energy, such as non-residential agricultural buildings, industrial sites, and workshops
Houses that are occupied for less than four months a year as vacation homes
If you're unsure whether your property needs an EPC, you can contact your local authority or mortgage advisor for advice.
Where can I get a copy of my EPC certificate?
Use the EPC Register website to find an accredited assessor to perform an energy assessment on your home. Once you've found an assessor, you'll need to contact them and schedule an appointment.
Ensure you have all relevant information, including your property address and square footage. Once you've scheduled a time, the assessor will come to conduct an inspection of your property to determine its energy performance.
What will the EPC assessor look at?
Age, floor area & type of house
The EPC assessor will look at the age and type of house, floor area, number of bedrooms, and bathrooms. They will also look for signs of any building defects, such as cracks or leaks, and signs of dampness in the property.
Home insulation
The EPC assessor will check if your home is adequately insulated by looking at the amount of insulation used throughout your property, including under floors and around windows. They will also check if you have fitted any additional insulation into walls or ceilings that could help prevent heat loss during winter.
Airtightness
The EPC assessor will check the air tightness of your home by taking several measurements, including air pressure inside and outside of your house, temperature changes throughout the day, humidity levels inside, and even sound levels outside your home using a decibel meter. Assessors will also check for leaks from roofing materials or other areas that could have created problems with airflow in your property, such as pipes or drains.
Windows
The EPC assessor will look at the windows to see if they are in good condition and the correct size for your house. They will also look for any signs of wear or damage, such as cracks or gaps, that might indicate a need to replace them.
Where can I get a copy of an existing EPC certificate?
How do you find out if my property has an EPC?
Contact your local authority or the Energy Performance Certificate register to find out if your property has an EPC. Your local authority should be able to tell you whether your property has an EPC on record. If an EPC is registered, you can view it on the EPC Register website.
Can you fail an EPC assessment on your property?
If you have a rental property, you need at least a rating of E on your Energy Performance Certificate (EPC) assessment. If your property does not meet the required standards, you would need to make improvements to your property to pass the assessment.
When will I receive my EPC certificate?
Your EPC assessor will send your EPC certificate by mail within a few days. This document will contain information about your property's energy performance and will be valid for 10 years. You might, however, want to obtain an Energy Performance Certificate before the 10-year mark if you make any significant improvements to the building. It will help you sell your home faster and at a higher price if it has a higher EPC rating.
About WIS Mortgages
We're a mortgage broker located in London, Buckinghamshire, Kent, and Essex. We offer zero-fee consultations and cover the whole of the UK. We simplify the process of getting a mortgage online, especially for IT contractors and self-employed workers. Along with mortgages, we also have a division of accounting (WIS Accountancy), a division of wealth management and pension, and a division of insurance (WIS Business Protection).
If you're considering taking out a mortgage, get in touch with one of our experts, and we'll give you free advice that could help save you money. Our mortgage calculators can also help you determine how much you need to pay for your mortgage.
As a mortgage is secured against your home/property it may be repossessed if you do not keep up with the mortgage repayments.
Contact Us
SHARE WEBPAGE