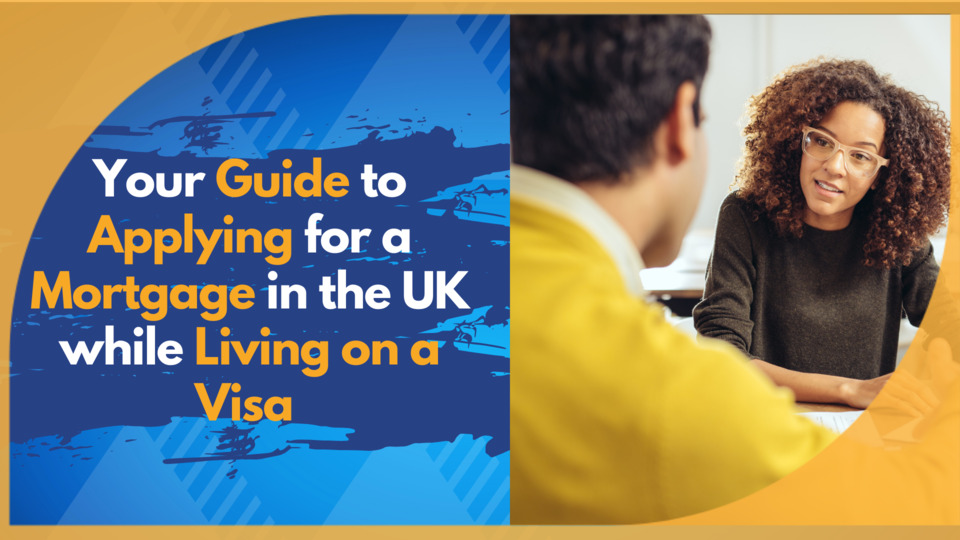 10th November 2023
Your Guide to Applying for a Mortgage in the UK while Living on a Visa
Navigating the property market in the UK can be complex at the best of times, but the process becomes even more intricate when you're a non-resident with a visa. However, securing a mortgage in the UK while on a visa is possible, provided you meet certain requirements and follow the right steps. This guide will take you through the necessary considerations and steps to achieve this milestone.
Understanding Visa Constraints
The type of visa you have and the duration remaining can influence your eligibility and the types of mortgage products available to you. So before considering a mortgage, make sure that you understand the specifics of your visa conditions. To help, letss take a look at the overview of different visa constraints below:
Tier 1 and Tier 2 Visas: Typically if you're on a Tier 1 (Exceptional Talent) or Tier 2 (Skilled Worker) visa, you'll have a better chance of obtaining a mortgage. Lenders are more amenable to these visas due to the stability they offer.
Other Visa Types: For other visa types, the remaining duration plays a vital role. Many lenders require you to have at least 2 years left on your visa when applying, though some might accept less.
Permanent Residency: If you're nearing the point of applying for indefinite leave to remain (ILR) or have already obtained it, this can bolster your application. So if you're considering obtaining ILR status, this could be a good time to go for it if you also want to secure a mortgage.
find me a mortgage
Factors Affecting Your Mortgage Approval
Just like any other mortgage applicant, various factors will determine your eligibility. Loosely speaking, the factors are the same if you're a UK citizen or living here on a visa. However, there may be stricter criteria like affordability checks to consider, such as:
Deposit: The bigger your deposit, the lower the risk for the lender. As a visa holder, you may be asked for a higher deposit than UK residents.
Income and Employment: Lenders will scrutinise your income, type of employment (e.g., permanent, contract), and job stability. Those on a Skilled Worker visa with a job on the UK's Shortage Occupation List may have an edge.
Credit History: A good UK credit history can boost your chances. If you're new to the UK and lack a credit history, consider opening a UK bank account and using credit facilities responsibly to build a positive record.
Foreign National Mortgages
Foreign National Mortgages are designed specifically for non-UK citizens residing outside the UK or those living in the UK but not holding British citizenship. This specialist form of mortgage caters to specific financial and legal circumstances that affect those who live in the UK on a visa. There are a few things to note about this type of mortgage, such as:
Eligibility: You'll need to be using at least a Skilled Worker visa, although some lenders may consider a tier 1 visa too.
Employment: You'll also need to have some minimum period of employment, usually between 6 and 12 months.
Higher Deposits: Often, a larger deposit is required for foreign national mortgages, sometimes up to 25-40% of the property's value.
Interest Rates: Interest rates will vary because of the way they are calculated, but due to the perceived higher risk, the rates might be slightly higher than standard residential mortgages.
Documentary Requirements
Mortgage applications require quite a lot of documentation, but if you're here on a visa then things can get more complicated. Prepare to present a plethora of documents to support your application, such as:
Passport & Visa: Copies of your passport and current UK visa are mandatory.
Proof of Address: This can be utility bills or bank statements from the last three months.
Proof of Income: Payslips, employment contracts, and P60 forms can serve this purpose.
Bank Statements: Lenders might request up to six months of bank statements to gauge your financial behaviour.
Credit Report: Acquire your credit report from a major UK credit agency to anticipate any potential issues.
Potential Challenges and Solutions
Unfortunately, there are some potential obstacles in your way if you're looking to secure a mortgage while here on a visa. Thankfully, there are always workarounds - especially if you enlist the help of a mortgage advisor. So, let's go over a few potential challenges and solutions:
Higher Interest Rates: Some lenders may charge visa holders a premium. So it's always good practice to shop around to find competitive rates.
Limited Loan-to-Value (LTV) Ratios: As a visa holder, you might be offered a lower LTV. This means you'll need a larger deposit which adds to the up-front costs of your mortgage.
Complex Documentation: As visa regulations and employment contracts can be intricate, ensure you have a clear understanding and all paperwork in order. If you require assistance, then a mortgage advisor will be able to help guide you through the documentation.
Securing a Mortgage While on a Visa is Possible
Applying for a mortgage in the UK on a visa requires meticulous planning and may come with its set of challenges. However, with the right approach and the aid of experienced professionals, it is entirely feasible. As you embark on this journey, remember to regularly review your circumstances, stay updated on visa regulations, and always keep your end goal in sight: owning a home in the UK.
If you have any questions about securing a mortgage while staying in the UK on a visa, then please contact our team at WIS Mortgages today. Our friendly team can help you understand your circumstances and guide you through the process to help you secure a mortgage with as little stress as possible.
Frequently Asked Questions
Q. Can I get a mortgage in the UK if I'm here on a visa?
A. Yes, you may be eligible for a mortgage even if you're here on a visa. Whether or not you'll be eligible will depend on the type of visa you have, your financial health and a few other important factors.
Q. How long do I have to live in the UK before I can get a mortgage?
A. For a standard mortgage, most lenders will look for at least 3 years of address history. However, there are specialist lenders and financial products that might allow you to obtain a mortgage sooner.
Q. Can I buy a house in the UK if I'm on a visa?
A. Yes, there are very few exceptions that would stop you from outright purchasing property in the UK if you're on a visa. You don't have to be a UK national to purchase property and you don't have to be based here either. This isn't true for mortgages though, which have stricter guidelines.
As a mortgage is secured against your home or property, it may be repossessed if you do not keep up the mortgage repayments. The Financial conduct authority does not regulate taxation advice or commercial buy to lets.
Contact Us
SHARE WEBPAGE