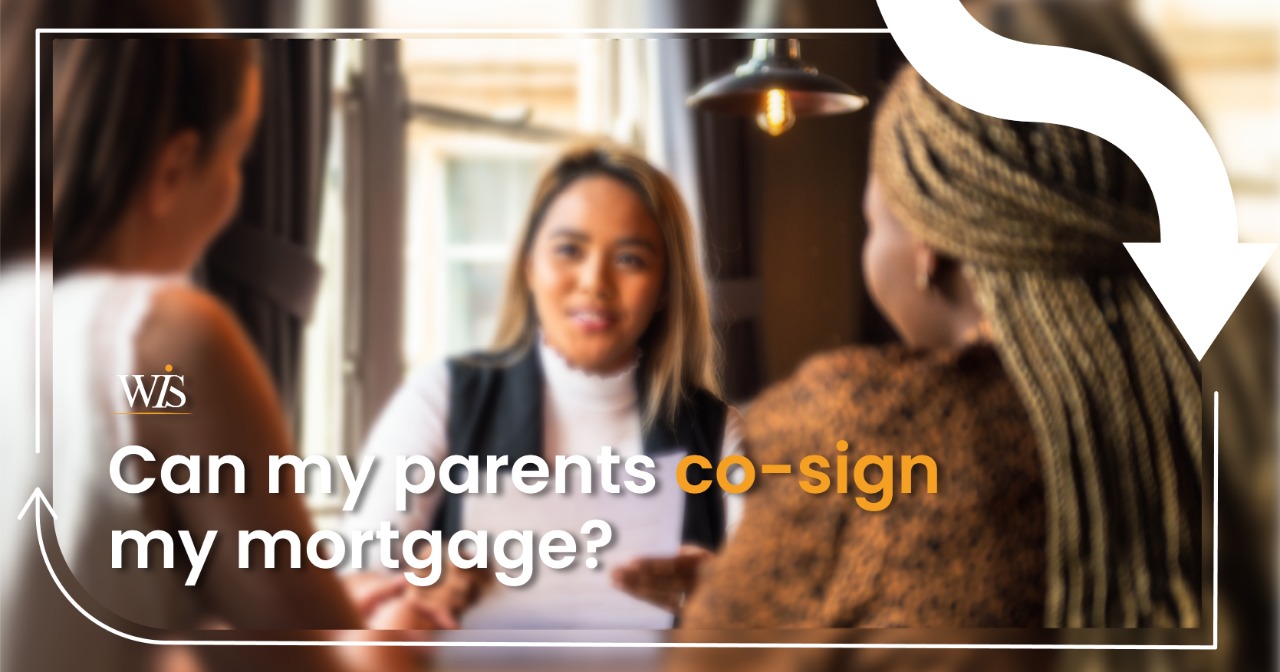 Can my parents co-sign my mortgage with me?
If you are trying to secure your very first mortgage, you may be wondering "Can my parent co sign mortgage?" This is actually commonly referred to as having a mortgage guarantor, and it is something that happens fairly frequently when it comes to first-time buyers in the UK.
Whether it is something you can do will depend on your circumstances and those of your prospective co-signers. We will look at what you need to consider in this article and you can contact WIS mortgages at any time for advice with no broker fees.
What does 'co-sign' mean for a mortgage?
A co-signer is a person who signs a mortgage agreement alongside the primary buyer if that person is not able to meet the criteria for a mortgage alone. It strengthens the mortgage application if the co-signer is in a stronger position. This means it can be helpful for first-time buyers looking to get a foot on the property ladder. It is also a popular option for self-employed people like contractors who need to bolster their application. Incidentally, we offer specialist advice for contractors.
Co-signers take on legal responsibility for the mortgage debt without taking any ownership of the property. They will appear on the mortgage agreement, but not on the property deeds.
find me a mortgage
Can my parents co sign my mortgage with me?
In theory, yes it may be possible for your parent to co sign your mortgage. But you will need to consider whether they are in a position to do that and whether it is the most financially sensible option available to you. There are various requirements for co-signers, and it may not always be beneficial to have a co-signer.
How helpful is it and what is required?
Having a mortgage co-signed doesn't necessarily make the mortgage application process any simpler, but it may boost your chances of approval. It mainly comes down to who is offering to co-sign and what their personal circumstances are. For example, a parent with a good ratio of debt to income and a good credit history could really strengthen your application.
On the other hand, a distant relative or a co-signer whose credit history is not good could actually end up being detrimental to your application as it may restrict your options.
Who can co-sign a mortgage?
Parents are the most common source of a co-signer for a mortgage, but both parties must bear in mind the financial commitment they are signing up for. The age of your parents will be a factor, as many mortgages have a maximum age. Your parents' credit record and financial security will be at risk if you fail to keep up with payments.
If your parents are not suitable to be co-signers, there may be others who can step in. Lenders are usually quite strict about who they will accept, though some may consider less conventional choices. It is typically preferred to have a close blood relative as the co-signer, such as a parent, grandparent or sibling.
What else do I need to think about?
As always, mortgage acceptance is dependent on a number of factors, even if you have a co-signer on board. The size of your deposit, your affordability and, of course, credit history, will all be factors.
It may be possible to get a co-signer mortgage if you have poor credit as the co-signer may strengthen the application. However, your adverse history will still be there. Everything depends on your circumstances and those of your co-signer, so it is very important to get expert advice from a mortgage broker in London or wherever you are based - we cover the whole of the UK.
A co-signer with a strong debt-to-income ratio (DTI) can also be helpful if your own DTI is not so good. Again, this really depends on the circumstances so it is important to seek independent advice for your specific situation.
Is there a difference between a guarantor and a co-signer mortgage?
There is a subtle yet important difference between a guarantor and a co-signer. It comes down to liability.
A co-signer is contractually liable for missed repayments with no need for lenders to take any specific action to demand payment from them. A guarantor is not so obliged and only becomes financially liable after the lender has exhausted all other means of collecting the funds from the primary borrower.
Can a co-signer be removed from a mortgage later on?
Over time, as circumstances change, you may wish to remove your co-signer from the mortgage agreement. It may be that you want more privacy for your finances or that you are in a stronger position and no longer need the co-signer.
It may be possible to have this change made, but you will need to contact your lender and enquire about it. They will need to re-evaluate your circumstances and review your payment history to assess whether you are now eligible to keep the mortgage without a co-signer.
Speak to a specialist
Our original question was "Can my parent co sign my mortgage?" Well, as you can see, the answer is that it does happen but it really depends on your circumstances. Some people will not be eligible for this, and for those who are, it may not necessarily be the most suitable option to take. You need expert advice tailored to your circumstances to help guide your decision-making, and that's what we can offer.
WIS Mortgages are expert mortgage advisors for the whole of the UK and we also have an accountancy arm (WIS Accountancy) and offer insurance (WIS Business Protection), wealth and pension advice. Basically, we are experts in all things finance, so you can put your faith in us.
Get in touch for free advice or use our mortgage affordability calculator to get a stronger understanding of where you are at.
As a mortgage is secured against your home/property it may be repossessed if you do not keep up with the mortgage repayments.
Contact Us
SHARE WEBPAGE