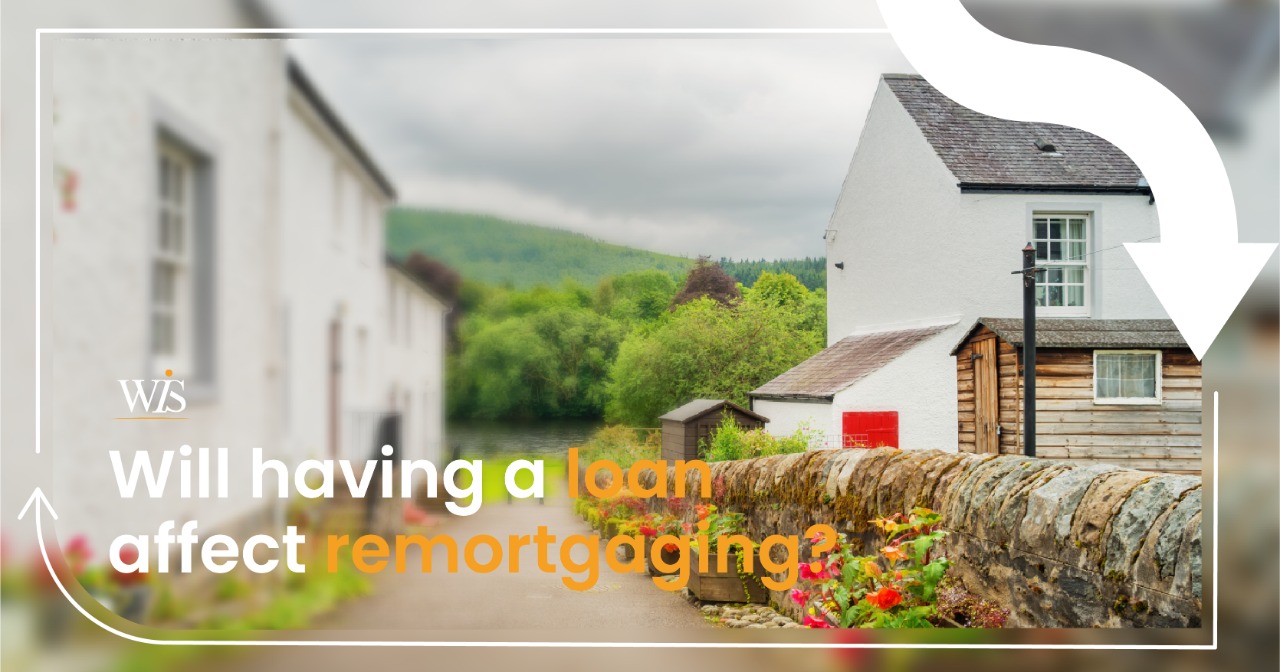 Will having a loan affect my remortgage application?
If you are planning to remortgage your property, but you have taken out a loan that is yet to be paid off, you might be wondering 'Will having a loan affect my remortgage?' The simple answer is that it will, and you should be prepared for that.
In this article, we will outline the impact your loan might have on a remortgage application so that you can make an informed decision about how to proceed. We will offer generic advice on what you can do and outline precisely what a remortgage is, before outlining alternative options. If, at any point, you feel you need more personal advice, please don't hesitate to contact WIS Mortgages.
How will having a loan affect my remortgage?
As you will know from the experience of taking out your initial mortgage, lenders perform calculations to see how much you can borrow. This is called an affordability assessment, and it ascertains your loan to income ratio based on your regular income and outgoings. If you are currently paying off a personal loan, those payments will be recorded in your monthly outgoings. If they significantly increase those monthly outgoings, it may weaken your position when it comes to applying to remortgage.
What's more, personal loans are recorded against your credit score so, if you miss any repayments, your credit rating could be adversely affected. This could further reduce your chances of getting a good remortgage offer from lenders.
So, will having a loan affect your remortgage application? Yes it will, but it's not all bad news...
Things to consider
Not all personal loans are the same, so they won't necessarily weaken your financial position. They can be anything up to £35,000 but tend to be smaller, so a small sum will only make a small dent in your monthly income. This is unlikely to significantly affect your affordability, so you should still be in a strong position when looking to remortgage.
Likewise, keeping up with loan repayments can actually be beneficial for your credit rating over time. This could potentially increase your score, putting you in line for better remortgage offers.
It is wise to take stock of your situation before committing to either a personal loan or a remortgage. Our mortgage calculators can be a helpful tool. Consider your options for borrowing a cash sum based on what you intend to spend it on, particularly if you have been repaying a mortgage for some time.
What is a remortgage?
A remortgage is a popular type of loan you can take out against your home. It involves replacing your current mortgage with a new one, either from a new lender or by choosing a better deal from your existing lender.
One common reason to remortgage is to move onto a new fixed-rate deal once you reach the end of your current one. Fixed rates are usually set for 2, 5, 7 or 10 years, after which you will revert to the lender's standard variable rate (SVR). This is often considerably higher than the discounted fixed rate, so it is often wise to remortgage before reverting to the SVR.
Another reason to remortgage is to take advantage of the equity built up in your property when you have been repaying your mortgage for some time. By keeping up with mortgage repayments for a few years, your LTV will have fallen assuming property prices have remained stable or risen. By submitting an application to remortgage with a lower LTV, you may be able to access better rates and lower your monthly payments. The same principle applies if your home has increased in value since you bought it.
Many people wait to increase the equity in their home to decide when to sell. By cashing in on a property once your equity has increased, the funds you access can be used to buy a lower value property or put towards a larger deposit for a higher value property. Alternatively, you can remortgage to release the equity you have accrued as a way of raising funds for things like home improvements or paying off debts.
Please remember to think carefully before securing other debts against your home.
By remortgaging, you can release as little as £5,000, but the total interest paid will usually be higher than that of a personal loan due to the term of the mortgage (usually 25 years). It is best to gain a full understanding of any fees or penalties that might make remortgaging less viable - a mortgage advisor can help with this.
Remortgage or personal loan?
If your reason for thinking about remortgaging is to raise some cash, it's worth considering that personal loans are not secured against your home. They may be a viable alternative to remortgaging if you don't want to risk your home being repossessed.
A personal loan can be anything up to £35,000 and would usually be paid off over 1-7 years. Personal loans usually come with a higher interest rate than a mortgage product, so your monthly repayments may be higher than if you chose to remortgage. However, as the loan is paid off over a much shorter period, you will probably pay significantly less interest overall.
If you can afford the higher monthly payments, a personal loan may be the better option in the long run. The application is also usually much quicker than remortgaging, so if you need the money quickly then personal loans can be helpful.
The bottom line
If you are thinking about remortgaging and already have a personal loan, there is a good chance the loan will affect your application. If, however, you are considering a personal loan but may wish to remortgage later, you need to weigh up the pros and cons. It could be that, when you remortgage, you could release equity instead of taking out a personal loan that might reduce your chances of a successful remortgage application.
Remortgaging is crucial when you reach the end of a fixed-rate term to avoid being put on your lender's SVR and wasting money. If you have a personal loan, you should consider trying to get it paid off before that time comes. Good planning is key when it comes to finance, and WIS Mortgages can help with your planning and decision-making with regards to mortgages and remortgages. Contact us today for a free, no-obligation consultation and see what your prospects are.
Contact Us
As a mortgage is secured against your home/property it may be repossessed if you do not keep up with the mortgage repayments.
SHARE WEBPAGE